영문으로 된 결혼 초대 카드로 위장한 형태의 악성코드 이메일이 국내에 유입되었습니다.
이 악성코드는 이력서 메일 내용 등으로도 전파되고 있습니다.
http://viruslab.tistory.com/2023
아래 내용 참고하시어 이러한 메일을 수신하시더라도 현혹되지 않도록 각별히 조심하셔야 겠습니다.
제목 :
INVITATION

내용 :
Love fills a moment
A moment fills a lifetime
A lifetime begins eternity
Our eternity begins here,
at the wedding of



Lalit Chanchlani
&
Shweta Notani



Please complete our happiness
by celebrating our wedding and sparkling your precious blessings

Date: 5th November 2010

Venue:Hotel Sajjan Prabha, Ajanta Palace,Ratlam (M.P.)

Contact No : +91 9826644680, +91 9752492736

I would love to meet you in person and invite for the same but could not make it because of distance and busy schedule. Please take this mail as my personal invitation.



Note: Please find the Wedding Card attached With This Mail.





Thanks and Regards

Lalit Kumar Chanchlani

Pipeline Department

Worley Parson's Arabian Industries (JVC)

GSM. No +96897049906

ExT No. 156

첨부파일 :
Wedding Card.zip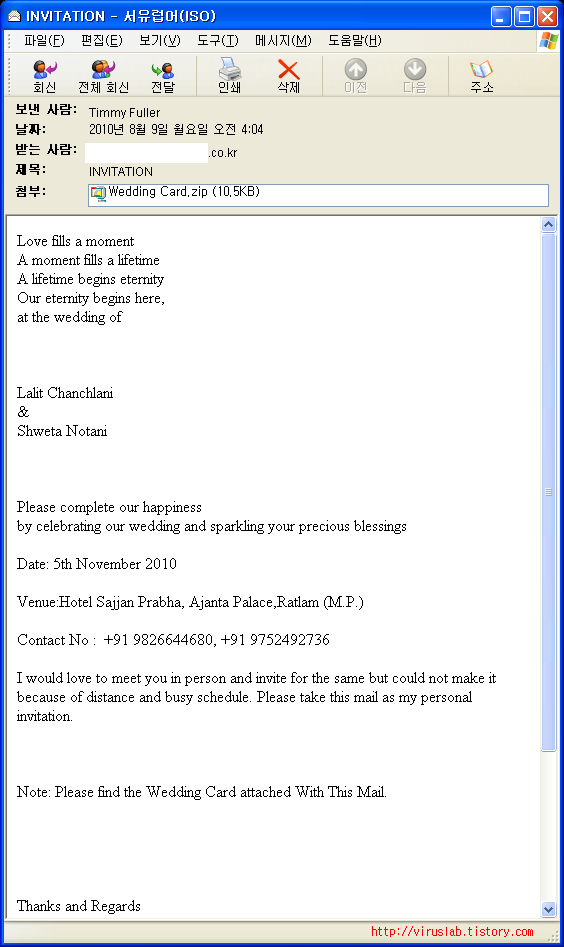 아래와 같은 변형된 메일도 있으며, 첨부파일은 이름은 다르지만 동일한 악성코드 입니다.
제목 :
Merriage Invitation

내용 :
Dear All,

Me and my family solicit your esteemed presence to grace and shower your blessings on this auspicious occasion of my wedding on 23 rd September 2010 at my home town Dhar.we invite you with your family to receive your love and blessings to define our destiny,Your august presence shall be an inspiring moment on the ceremony,I personally want to meet and invite you for the same but in case if I can not, please treat this mail as cordial .

" PATRIKA" is attached herewith.

looking forward to welcome you.

Thanks.

첨부파일 :
Wedding Invitation Ashish.zip

"Wedding Card.zip"
압축 파일 내부에는
"Wedding Card.exe"
라는 이름의 악성코드가 포함되어 있습니다.
nProtect Anti-Virus
최신 패턴에서는
"Trojan.Oficla.AA"
라는 이름으로 치료가 가능한 상태입니다.
바이러스 토탈 전 세계 Anti-Virus 제품의 진단 현황입니다.
http://www.virustotal.com/analisis/23668991c3905663660ff4131f4774c3e7cf7e6814a5f8e018203ae10f6c75e6-1281297804
| Antivirus | Version | Last Update | Result |
| --- | --- | --- | --- |
| AhnLab-V3 | 2010.08.08.00 | 2010.08.07 | Downloader/Win32.Agent |
| AntiVir | 8.2.4.34 | 2010.08.08 | - |
| Antiy-AVL | 2.0.3.7 | 2010.08.06 | - |
| Authentium | 5.2.0.5 | 2010.08.07 | W32/Trojan3.BXE |
| Avast | 4.8.1351.0 | 2010.08.08 | Win32:Trojan-gen |
| Avast5 | 5.0.332.0 | 2010.08.08 | Win32:Trojan-gen |
| AVG | 9.0.0.851 | 2010.08.08 | Cryptic.ATL |
| BitDefender | 7.2 | 2010.08.08 | Trojan.Oficla.AA |
| CAT-QuickHeal | 11.00 | 2010.08.07 | - |
| ClamAV | 0.96.0.3-git | 2010.08.08 | Trojan.Bredolab-988 |
| Comodo | 5686 | 2010.08.08 | - |
| DrWeb | 5.0.2.03300 | 2010.08.08 | Trojan.DownLoad2.14991 |
| Emsisoft | 5.0.0.36 | 2010.08.08 | Trojan-Dropper.Agent!IK |
| eSafe | 7.0.17.0 | 2010.08.08 | - |
| eTrust-Vet | 36.1.7773 | 2010.08.07 | - |
| F-Prot | 4.6.1.107 | 2010.08.07 | W32/Trojan3.BXE |
| F-Secure | 9.0.15370.0 | 2010.08.07 | Trojan.Oficla.AA |
| Fortinet | 4.1.143.0 | 2010.08.08 | - |
| GData | 21 | 2010.08.08 | Trojan.Oficla.AA |
| Ikarus | T3.1.1.84.0 | 2010.08.08 | Trojan-Dropper.Agent |
| Jiangmin | 13.0.900 | 2010.08.07 | - |
| Kaspersky | 7.0.0.125 | 2010.08.08 | Trojan-Downloader.Win32.Agent.eesv |
| McAfee | 5.400.0.1158 | 2010.08.08 | Bredolab.gen.c |
| McAfee-GW-Edition | 2010.1 | 2010.08.08 | Artemis!CF0A2F0A1DFC |
| Microsoft | 1.6004 | 2010.08.08 | - |
| NOD32 | 5349 | 2010.08.07 | - |
| Norman | 6.05.11 | 2010.08.08 | W32/Bredolab.B!genr |
| nProtect | 2010-08-08.01 | 2010.08.08 | Trojan.Oficla.AA |
| Panda | 10.0.2.7 | 2010.08.08 | Trj/CI.A |
| PCTools | 7.0.3.5 | 2010.08.08 | Downloader.MisleadApp |
| Prevx | 3.0 | 2010.08.08 | - |
| Rising | 22.59.05.04 | 2010.08.07 | - |
| Sophos | 4.56.0 | 2010.08.08 | Troj/Mdrop-CST |
| Sunbelt | 6703 | 2010.08.08 | Trojan.Win32.Generic.pak!cobra |
| SUPERAntiSpyware | 4.40.0.1006 | 2010.08.08 | - |
| Symantec | 20101.1.1.7 | 2010.08.08 | Downloader.MisleadApp |
| TheHacker | 6.5.2.1.338 | 2010.08.08 | - |
| TrendMicro | 9.120.0.1004 | 2010.08.08 | - |
| TrendMicro-HouseCall | 9.120.0.1004 | 2010.08.08 | - |
| VBA32 | 3.12.12.8 | 2010.08.04 | - |
| ViRobot | 2010.7.29.3961 | 2010.08.08 | - |
| VirusBuster | 5.0.27.0 | 2010.08.08 | Trojan.Agent.YHJN |
Additional information
File size: 20992 bytes
MD5 : cf0a2f0a1dfca7bed24dac419e46fe64